As regulatory issues, technical challenges and certification processes begin to be addressed, WiMAX ecosystems are steadily being built, leading to deployments that are slowly but surely being realized in both developed and developing country markets. For the majority of 2006, WiMAX equipment has been shipped and installed mainly for backhaul purposes and network building efforts. This trend will certainly continue until 2007 and gather momentum throughout succeeding years.

However, beyond system deployments that have largely been the dominant business model in recent years, service provider strategies and investment funds spent will begin to be manifested more concretely through the buildup of a WiMAX subscriber base. Many see 2007 as the tipping point or inflection point in time for "real" WiMAX growth, and 2007 will be the real test on whether WiMAX does in fact succeed given the market positioning or hype that has taken place thus far.

As such, efforts on the supply side via the establishment of the ecosystem will have to be translated to a sustainable business model on the demand side. In reality, investments in many countries around the globe will have to display a positive ROI model in order to continue or further network buildout in key countries within and outside of traditional G7 or rich-country markets.


Global WiMAX Service & Equipment Revenues- 2007-2012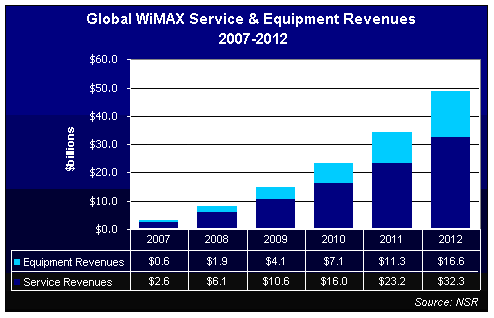 Fixed WiMAX services are the first business proposition to be offered in the marketplace, and there are certainly sound strategies in terms of price plans and target segments that have been developed. Digital Divide programs and corporate access, where terrestrial broadband technologies are either out of reach or do not justify an ROI model for a network buildout, present opportunities for fixed WiMAX services.

For broadband wireless services, various business models create risks but at the same time hold bountiful opportunities, rewards and revenues. Form factors of devices ranging from laptop PCs, highly functional cellular phones, Blackberry-sized devices (with a host of features that include data, video and voice), as well as the inherent feature of mobility, create many business propositions that are not typical of fixed broadband business. More affordable devices, pre-paid plans and individuals or family units rather than households or businesses are the addressable market in BWA. Many end user categories in various niches are thus needed to develop to create and defend business models.

NSR predicts a healthy market for WiMAX equipment and service globally. From a combined revenue base of $3.2 billion in 2007, the global WiMAX market should reach close to $49 billion by end-2012. The overall market translates to a healthy subscriber base as well as a fully developed ecosystem where form factors and technical capabilities deliver promised quality that will prove to be compelling for business and consumer sectors.

The "sweet spot' of demand within the forecast period rests with enterprise or corporate applications. The so-called "Road Warrior" (a highly mobile enterprise user) is expected to present the largest market opportunities for WiMAX in terms of the subscriber base. In revenue terms, the corporate base, which includes fixed and mobile/nomadic users, will garner the highest revenue streams.

Fixed services are expected to be dominated once again by corporate use, followed by the SoHo market, and lastly by the household market. This trend follows NSR's contention that the basic and core business sector WiMAX should target rests with enterprise segments.

Finally, form factors will likewise be important since devices not only enable the end user to run WiMAX services, but the devices themselves are expected to lead to WiMAX subscriptions as end users adopt services based on technology offerings on the latest platforms. Put more simply, the end user will likely subscribe to WiMAX services as an after-thought because he/she wants to primarily own a WiMAX-enabled device.

Primary Research Findings
WiMAX presents one of largest opportunities for many telecom players. Backed by industry leaders including Intel, Fujitsu and Motorola, as well as Sprint and Korea Telecom, WiMAX operators are looking to serve key applications in both fixed and mobile/nomadic platforms. One of the early business propositions is the ability to leverage WiFi services, while now nearly ubiquitous, but it is still limited by coverage issues, data rates and security. WiMAX has the ability to improve on WiFi capabilities from both coverage and throughput performance levels giving rise to business models such as serving so-called super-metro zone areas.
In the 1st Edition of the study, NSR noted the "absence of long-term commitment from operators," which was a major hindrance to full scale WiMAX development. One year later, this trend looks to be changing given that a number of key operators such as Sprint in the United States and Korea Telecom, among others, that are looking at WiMAX as the precursor or even the very platform to run 4G services. Given the stature of these operators, competitors are now believed to be seriously reconsidering technical as well as marketing strategies, either to use WiMAX as a complement to 3G services or move altogether to WiMAX as the BWA platform and slow implementations in 3G. After all, there are limited investment funds to be spent, and if indeed traffic will move to an all-IP platform, WiMAX (at least today) offers the technology by which to establish a foothold for an all-IP offering.
Sprint in the United States is significant due to the number of subscribers it can leverage and territorial coverage or footprint where it can offer services. Sprint's main competitors have to be looking closely at the impact of WiMAX in terms of both operational costs over the long term, application suites the technology can support, and the impact on subscribers who may churn towards Sprint given a WiMAX capability. In the end, a simple labeling strategy may spell the competitiveness difference as customers such as "The Younger Set" or "The Road Warrior" may perceive WiMAX to be a more compelling, attractive and "hip or cool" technology compared to 3G. And given the success of WiFi, consumers that are less than technically savvy may just go with a label that basically says to them (either rightly or wrongly) that WiMAX is an extension and superior to WiFi and 3G.
Clearwire is also a significant player in the U.S. market. A new entrant trying to break the stronghold of established players, the company is using WiMAX to leapfrog to 4G. Given the benefits and relatively low entry costs for supporting 4G services, Clearwire represents an operator that can seriously challenge incumbents via the WiMAX platform for BWA and traditional services.
In the Asia Pacific, Korea Telekom is pushing for WiBro and has tapped the mobile market ahead of other regions of the globe. The Asia Pacific is expected to represent the largest WiMAX opportunity, given the adoption of new technologies and services the region has traditionally exhibited, as well as the growing affluence of the population base in both enterprise and consumer segments.
Other regions of the globe are expected to adopt WiMAX as well where niche opportunities in both fixed and mobile platforms should be sustainable within this report's forecast period.
NSR expects 802.16d equipment to be certified and continue to be deployed in earnest throughout 2007. Fixed access equipment and base stations have been shipped in 2006, and NSR believes growing volume of certified 802.16d equipment will be shipped in 2007 through 2008, before slowing once nomadic/mobile certified equipment becomes available.
NSR expects the first 802.16e equipment to be certified in 2007, and commercial shipments will start sometime within the year. Many vendors are bypassing the fixed market in favor of mobile/nomadic services as these are believed to present greater growth. However, there are niche players that see fixed applications for developing country needs to be their "sweet spot" of market demand such that fixed and nomadic/mobile equipment and service business propositions will co-exist for some time. Although some cannibalization will take place as end users begin to prefer nomadic/mobile platforms, cost considerations and usage needs should lead to a sustainable business model for fixed services, specifically on the service side of the market.
Conclusions
From market hype that has dominated over the past 2-3 years, WiMAX is now becoming a reality as technological developments, business planning and actual deployments have begun to take place. The key to WiMAX success is the ability to offer mobile or nomadic capabilities and when mobile WiMAX is launched, it will target the highly developed metro markets primarily for enterprise rather than consumer applications. The market's "sweet spot" includes end users with a high penetration of laptops and handheld devices and thus possess a high disposable income level that would justify an operator's expenditures on 802.16e WiMAX infrastructure.

Yet, despite its technical and market merits, WiMAX is not envisioned to become the "be all and end all" of the BWA market. WiMAX is foreseen to co-exist with other platforms (specifically WiFi and 3G) at least within this report's forecast period, which ends in 2012. WiFi and 3G players are not expected to stand idly by while WiMAX cannibalizes their market shares in the BWA market.

As the battle for the eyes and ears of business people and consumers on a mobile or nomadic platform becomes more intense, the response from various platforms that exist today and those that will likely enter the market in the future will lead to innovations and creative business propositions that will make the marketplace more interesting and more competitive. WiMAX will have its place in the BWA market, and NSR projects a growing share over time. It is too early to say whether WiMAX will dominate the BWA market, but it is certainly positioned given its technical and cost merits to indeed threaten 3G and WiFi over the long term as wireless telecom services move to an all-IP platform. Within this report's forecast period, however, WiMAX is expected to be a comparatively small market compared a subscriber base that has reached critical mass, specifically the 3G platform.