Industry Highlights

WiMAX

White Papers

WiMAX Company List
WiMAX Trade Shows
WiMAX Books
WiMAX Buyer's Guide
WiMAX Forums
WiMAX Stocks
WiMAX Market Reports
Alvarion BreezeMax Wireless Solutions
BreezeMAX™
Brochures:
Customer Stories:
Datasheets:
White Papers: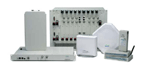 Commercially available since mid 2004, deployed by over 130 operators in more than 30 countries, BreezeMAX™ is the most advanced, field proven commercial WiMAX solution and the first to offer CPE powered with Intel PRO/Wireless 5116 broadband interface WiMAX chip.

Built from the ground up based on the IEEE 802.16-2004 standard, BreezeMAX™ supports fixed, nomadic and portable services with a clear path for the emerging WiMAX mobile industry based on the IEEE 802.16e standard. BreezeMAX™ is designed for a variety of frequencies in both licensed and license-exempt bands from 2GHz to 6GHz spectrum, and operates in both FDD and TDD duplex modes.

The system, with excellent sensitivity and market leading OFDM radio technology, is robust to operate in adverse channel conditions and non-line-of-sight links. With high power radios that support diversity and smart antenna techniques, BreezeMAX™ enables the use of indoor self-install CPEs in both dense urban and suburban environments.

BreezeMAX™ CPEs are powered by Intel's PRO/Wireless 5116 broadband interface chip and deliver broadband access services to a wide range of customers, including residential, SOHO, SME, large enterprise and multi-tenant customers.

Highlights:
WiMAX Platform
Field Proven by more than 130 operators
Deployed in over 30 countries
Fixed, Portable and Mobile Services
Self Install CPE
Modular scalable base station architecture
Wide Variety of Frequencies: 2 – 6 GHz
FDD/TDD
Multi service with QoS
Best NLOS and coverage performance
Suitable for residential, Business, MDU/MTU, Hotspot Backhaul
Triple play: voice, data and multimedia services.
4Motion Open WiMAX Solution
Mobile WiMAX enables subscribers to take their broadband connection mobile or make their mobile service broadband.

BreezeMAX Wi2
BreezeMAX Wi2 combines the advantages of the popular WiFi access with the powerful capabilities of BreezeMAX systems to provide cost-effective solutions for personal broadband services today, bridging the gap to full future WiMAX 802.16e personal broadband mobility. The Wi2 system comprises a self-contained combination of an advanced WiFi Access Point and a BreezeMAX unit that provides backhaul connectivity. With its robust design, the Wi2 can be deployed most anywhere to provide broadband mobility to standard WiFi (IEEE 802.11 b/g) end user devices.

BreezeMAX™ 2300/2500 (New)!
BreezeMAX™ 2300/2500 provides a complete, end-to-end WiMAX solution for personal broadband services.
More Info

Voice Solution over BreezeMAX™ (New!)
Voice Solution Over BreezeMAX™ enables operators to offer primary voice services while having the benefits of an all IP solution.
More Info

Base Station Equipment
The BreezeMAX™ base station is a highly modular and scalable base station, available in both micro and macro sizes to ensure maximum cost efficiency.
More Info

Customer Premises Equipment
The subscriber unit (SU) installed at the customer premises provides data connections to the access unit (AU). Extremely reliable, it serves as an efficient platform for a broad range of services, including high-speed access to IP based services at a net data rate up to 10 Mbps over a 3.5 MHz channel.
More Info

Network Management
AlvariSTAR is our carrier-class NMS for Alvarion's suite of wireless access solutions, including BreezeMAX. Designed for the most advanced Network Operation Centers (NOCs), AlvariSTAR provides all the element management, monitoring, configuration and fault management required to maximize network efficiency while minimizing resources and expenses.
More Info