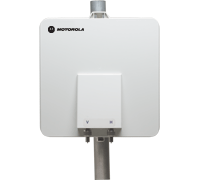 In fact, the Motorola 400 Series broadband wireless, point-to-point 5.4 GHz and 5.8 GHz Ethernet bridges offer the first true non-line-of-sight wireless radios that deliver carrier-grade service (up to 99.999% availability).

The Motorola PTP 400 Series 5.8 and 5.4 GHz products include:
PTP 58400 Integrated – Up to 43 Mbps solutions with built-in antennas
PTP 58400 Connectorized – Up to 43 Mbps solutions with the high-gain advantage of external antennas
PTP 58400 Lite Integrated and Connectorized – Up to 21 Mbps solutions for budget-constrained organizations that need robust solutions to overcome interference and navigate obstructions
Introducing the 4.9 GHz Solution for Public Safety

Operating in the 4.9 GHz spectrum, the Motorola Point-to-Point PTP 49400 wireless Ethernet bridge gives military and security officers, firefighters, police officers, medical personnel and government officials the mission-critical reliability, high bandwidth and quality of service required to communicate during times of crisis and uncertainty. Offering full-speed and Lite models with data rates up to 35 and 17.5 Mbps (respectively), the bridges can deliver the throughput that public safety officials require for applications, such as on-scene streaming video, Internet and database access and transfers of maps, blueprints, medical files and missing-person images. Included in Motorola's MOTOwi4 portfolio of wireless broadband solutions, the PTP 49400 also efficiently handles backhaul for wireless networks, video surveillance networks and temporary fixed point-to-point links, providing a cost-effective solution for T1 replacements. The systems deliver reliable connectivity even in non-line-of-sight and high-interference environments, like those in densely populated urban areas, as well as long-distance line-of-sight for sparsely populated regions or over large bodies of water.
All 400 Series products include Motorola's unique combination of technologies designed to protect against fading and radically increase performance, including:
Multiple-Input Multiple-Output (MIMO)
Intelligent Orthogonal Frequency Division Multiplexing
Advanced Spectrum Management with Intelligent Dynamic Frequency Selection
Adaptive Modulation
Spatial Diversity
Best-in-Class Radios
Choose 400 Series solutions when you need connectivity for challenging near- and non-line-of-sight environments, including deep NLoS deployments and those that span long distances and travel over water. Even in obstructed and high-interference locations, 400 Series solutions succeed more than 99% of the time.

Built-in Security and Optional AES Encryption: Because each radio is
pre-programmed with the MAC address of its matched partner, the two ends of a link will communicate only with each other eliminating "man in the middle" attacks. Each matched pair also employs a complex scrambling mechanism that offers a high degree of security for over-the-air transmissions. In addition, you can choose to augment these security capabilities with AES encryption. While the matched radios and scrambling mechanism are included with each system at no additional charge, there is a one-time licensing fee to implement AES encryption. on any 400 Series radio. Contact your Motorola Point-to-Point Solution Provider to implement AES encryption on your new or existing systems.