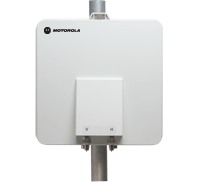 The Motorola 600 Series point-to-point 5.4 GHz and 5.8 GHz wireless Ethernet bridges provide more range and capacity in near- and non-line-of-sight (NLoS) environments, delivering carrier-grade service (99.999% availability). Motorola combines Multiple-Input Multiple-Output (MIMO) and Intelligent Orthogonal Frequency Division Multiplexing with advanced signal-processing algorithms, allowing 600 Series solutions to create four simultaneous signals between pairs of transceivers at each end of the link – without losing spectrum efficiency. This technique increases signal integrity by an unprecedented 300 times.

With aggregate throughput up to 300 Mbps on a 30 MHz channel, 600 Series solutions deliver 300% greater spectral efficiency than our nearest competitor. These systems are particularly well-suited for applications and networks that require high throughput and T1/E1 capability because they build in extra features that promote greater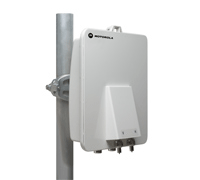 speed and mitigate RF interference. The T1/E1 ports mean that you can bundle circuit-switched connectivity with IP voice, video and data communications.

The PTP 600 Series solutions are designed to handle a wide variety of applications and environmental requirements:
PTP 58600 Integrated – with data rates up to 300 Mbps and a built-in antenna
PTP 58600 Connectorized – with data rates up to 300 Mbps and the high-gain advantage of external antennas
PTP 58600 Lite (Integrated and Connectorized) – with data rates up to 150 Mbps
Built-in Security and Optional AES Encryption: Because each radio is pre-programmed with the MAC address of its matched partner, the two ends of a link will communicate only with each other eliminating "man in the middle" attacks. Each matched pair also employs a complex scrambling mechanism that offers a high degree of security for over-the-air transmissions. In addition, you can choose to augment these security capabilities with 128-bit or 256-bit AES encryption. While the matched radios and scrambling mechanism are included with each system at no additional charge, there is a one-time licensing fee to implement AES encryption on any 600 Series system. Contact your Motorola Point-to-Point Solution Provider to implement AES encryption on your new or existing systems.