900 MHz
Vecima offers the world leading NON-LINE-OF-SIGHT (NLOS) broadband products developed by WaveRider. Whether you're building a wireless broadband network to serve an entire community, or serving just a few subscribers, or expanding your existing networks, WaveRider has a cost-effective wireless system that can help you meet your business objectives.

WaveRider LMS8000 – 900 MHz OFDM Broadband Wireless
Easily plan, install and deploy a non-line-of-sight wireless network in the unlicensed 900 MHz spectrum with Vecima's next generation WaveRider LMS8000 series.
Advantages:
LMS8000 enables true "Plug and Play" capabilities, enabling service providers or end-users to quickly and easily install their equipment and establish a reliable wireless connection.
LMS8000 series broadband radios provide an impressive user throughput of up to 32 Mbps on a CAP site, supporting a profitable business model.
Vecima's new generation technology is highly suitable for your wireless ISP operation, SCADA, telemetry, video surveillance and related applications.
Significantly increases data rates and system capacity

Ensure superior performance in point-to-point (PTP) or point-to-multipoint (PTMP) applications with Vecima's WaveRider family of non-line-of-sight PTP bridges with integrated antennas.
Product Features: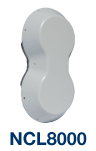 Cost-effective T-1 lease line replacement
IP-based video surveillance solutions
Wireless wide area network connectivity
Municipal, education, healthcare, security, enterprise and more
900 MHz Point-to-Point Bridge
The NCL8000 can be purchased as a kit with all the components required for a fully configured "out of the box" solution for a wireless PTP link.
WaveRider MMT9000, MBT9000 and CCU8000 – 900 MHz Nomadic Data Access
Deliver high speed voice and data services wherever constant, reliable communications are required. The DC powered MMT9000 Mobile Terminal and MBT9000 Mobile Base Terminal are cost effective and compact.
Product Features:
Over-the-air data rates of 2.75 Mbps and access speeds of 2.0 Mbps
Supports voice, video and data communication
Enables end-user mobility; suitable for in-vehicle installations
Extended temperature range of -40 C to 50 C
Superior 900 MHz non-line-of-sight performance
Reliable, secure, easy to deploy
They are ideal for rapid deployment systems such as:
Emergency Response
Disaster Relief
Construction Projects
Oil and Gas Industry
900 MHz Base Station with PoE
(Stationary Base Station)

900 MHz Nomadic Base Station Terminal

900 MHz Nomadic Subscriber Terminal