4.9 GHz
Ensure superior performance in point-to-point (PTP) or point-to-multipoint (PTMP) applications with Vecima's WaveRider family of non-line-of-sight PTP bridges with integrated antennas.
Product Features:
Cost-effective T-1 lease line replacement
IP-based video surveillance solutions
Wireless wide area network connectivity
Municipal, education, healthcare, security, enterprise and more


4.9 GHz, 400mW Point-to-Point and Point-to-Multipoint Bridge/Router
The 4.9 GHz NCL4900 series is a PTP and PTMP bridge/router allowing public safety agencies to build a secure, interference free wireless communications infrastructure with best-in-class features and performance
WR4912M 4.9 GHz MIMO Radio System
The WaveRider WR4912M by Vecima Networks is a 4.9 GHz base station providing a full 100 Mbps of usable throughput at long range. The WR4912M uses multiple input, multiple output (MIMO) for increased throughput.
Advantages
Field proven, MIMO-OFDM modulation allowing high capacity, near line-of-sight deployment and strong immunity to multi-path.
Power over Ethernet (PoE) for simplified cable routing.
Integrated antenna/radio simplifies installation and eliminates lossy RF coax runs.
Frame aggregation for enhanced data throughput.
Line speed QoS packet inspection prioritizes latency sensitive, real-time data.
Intuitive Web based user interface and Telnet CLI
PTP Applications: Wireless carrier / ISP backhaul, Metro/Core backbone, Emergency / disaster recovery, Video / Surveillance backhaul, Public Safety
The WaveRider WR4912M is a leap forward in meeting the ever-increasing needs for affordable backhaul capacity across unlicensed spectrum.

The RF packet transport of the WR4912M is optimized for high capacity links and is capable of preserving the maximum amount of throughput at long distances.

Quality of Service (QoS) features within the WR4912M architecture allow tagged voice and video traffic to take priority over general data packet transfer, providing reliable, real-time capability even under congested link conditions. Priority privileges for marked frames are maintained from port to port: Ethernet through RF.

With security remaining a key consideration in many applications, the WR4912M delivers 128 bit AES encryption decryption.

The AES algorithm was selected to be the standard encryption method of the US Government by the National Institute of Standards and Technology (NIST). In addition, the Excel Series provides up to two levels of AAA protection through the configurable use of 802.1xRADIUS and RF MAC authentication.

The WaveRider PTP kits are available with integrated 23 dBi antennas or connectorized with dual N-type RF connectors. Surge suppressors, cables and other accessories are also available directly from WaveRider.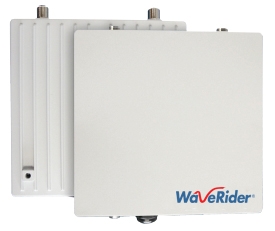 WR4912M 4.9 GHz MIMO Radio System